Central Pennsylvania Walk and Wade Streams and Creeks
We offer Walk and Wade day trips and Overnight Packages that include lodging, food and guiding. 
Come join the most experienced guide service in Pennsylvania.

North-Central PA
North Central PA is home to a lot of great water.  The main drainage area is the Pine Creek valley, a beautiful valley, with high mountains and many tributaries.  There are an array of wild trout streams above and below Rt 6 that runs across the state.  They are worth exploring and a great place to go spend a week fishing around the area. Join one of the most experienced guide services in the state of PA.

Pine Creek, Slate Run, Cedar Run and Little Pine Creek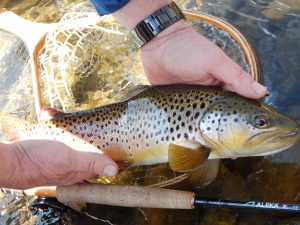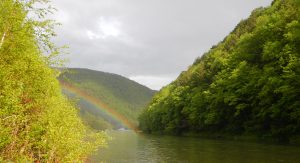 Let's start with Pine.  A wide stream that is more like a river.  It starts on the northern border of PA and NY.  Wild trout can be found up in the head waters.  The Pine is stocked along it's run to the Susquehanna.  Wild trout can be found along it's run but, in the summer they will stack up at the main tributaries due too the water temps getting into the mid to high 70's.  There is a special regulated section in the Blackwell area.  
Slate Run and Cedar Run are two tributaries that feed the Pine and are worth exploring.  It is best to do this yourself because they are small, hilly and you need to be stealthy on your approach.  There are some real nice fish in the Runs and each have special regulations. 
Little Pine has a special regulated area above Little Pine State Park.  This too gets warm and trout will move out. It is stocked by the state.  Little Pine lake is stocked with trout and so is the stretch from the park to the Big Pine.  
Hatches are pretty good in the area with Green Drakes around.

Kettle Creek And Young Women's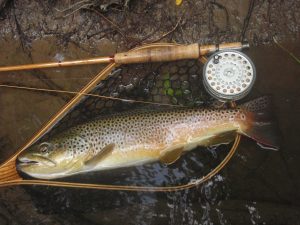 Go fish Kettle, it has a lot of different types of water. Mountain (flats and deep hole) to large water below the dam. The state stocks Kettle and it has wild trout, good hatches and good access.  Don't forget about Young Women's Creek.  Both are fun to explore and enjoys wetfly, dry fly and nymph fishing.  

Mid-Central Streams and Creeks
Where do I start? The best fishing in the Keystone state is right in the middle where State College is located. Penns Creek, Spring Creek, Big Fishing Creek, Elk Creek and lots of smaller streams.  Most have the Green Drake hatch, stay away, too many fishermen, just saying.  

Spring Creek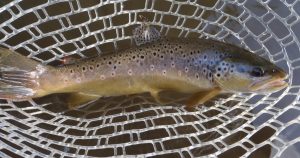 A great fishery that is no harvest and it has thrived.  A great Sulphur hatch and really good nymphing/wet fly water to cut your teeth on.  Easy access along it's run and there are some nice sized fish everywhere to Bald Eagle Creek.  A real testament to non-harvest water. It runs through the town of Bellefonte and is a short drive from State College.  The creek is mostly a Brown Trout fishery.  Blue Wing Olives, Sulphurs, Sow Bugs are the go to flies.  Streamer fishing will bring out the bigger fish when the water comes up.  Where to go, lots of access and people. Sky Blue has been guiding on the creek for well over 20 years. A great dry fly and nymphing stream to cut our teeth on.

Rick, Dave R., Dave A. have been fishing this creek for over 40 years.

Big Fishing Creek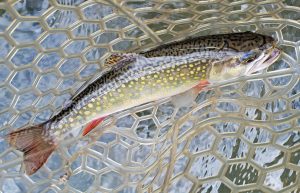 Another spring creek worth the time.  It does not have the glory (heavy hatches and fish population) it had 20 to 25 years ago but go work the water, it is still a great fishery.  It has a special regulated stretch and no Sunday fishing area. Hendricksons, Caddis, Sulphurs and Green Drakes, oh my. The creek starts north of Logan Mills/Taylorsville and runs all the way down past Lamar.  A short drive from State College. It has a population of Brown Trout and Native Brook Trout.  We have been guiding on Big Fishing Creek for over 20 yeas and know how to locate and fish this fickle creek.

Rick, Dave R., Dave A. have been fishing this creek for over 40 years.

Penns Creek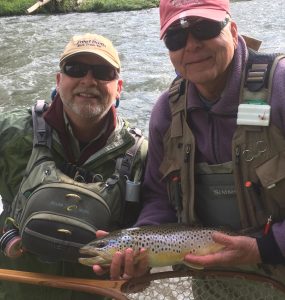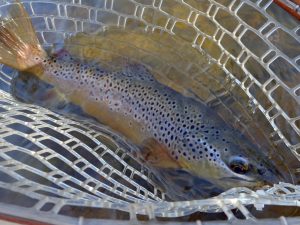 What can I say…go fish Penns Creek, one time in your life.  It has great hatches, large fish and big water that is easy to fish. Not easy to catch fish. It does get a lot of pressure and some areas parking can be an issue.  Rule # 1 don't fish where everyone else does.  Rule # 2 you might get your hat handed to you, bring your A game. Fishing is best from Weikert

through

Ingleby, Poe Paddy State Park all the way to the town of Coburn.  There are two feeder creeks in the Coburn area, Elk and Pine worth exploring. A short drive from State College or Bellefonte. We have been guiding on Penns for well over 25 years and getting clients 20 plus inch fish. Rick, Dave R., Dave A. have been guiding on Penns for a total of more than 50 years. Learn from our

experience

. 

Little Juniata River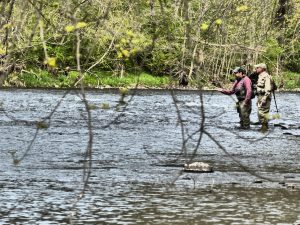 The Little J as it is known has a very good population of wild Brown Trout and is one of the largest trout streams in PA. Dave Allbaugh, Guide, has been fishing the Little J since the 70's. You will find deep pools, pocket water and long riffles to explore.  It has special regulations on over a 10 mile stretch.  The best fishing is from Tyron past Barree.  One of the most popular spots in where Spruce Creek dumps in and runs through a gorge. Our guide, Dave Allbaugh, calls the Little J his home. 

Elk Creek, Pine Creek and Cherry Run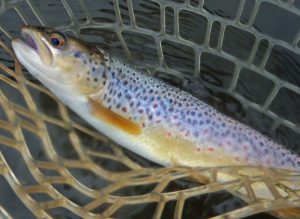 Spend some time on these smaller creeks.  All three feed Penns Creek. Access is limited on Elk and Pine.  Cherry Run goes through state game lands and has a special regulation section. 

South-Central PA

A historic area, legends were born here, they learned and shared their experiences in books, shows and videos. Visit the PA Fly Fishing Museum. Letort, Big Spring, Yellow Breeches are most well known.  There are others that need to be fished. 

Letort, Big Spring and Yellow Breeches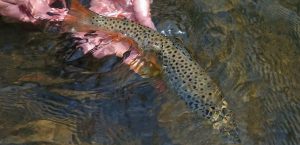 All three live up to their hype if you know how to fish these types of streams.  Spring Creeks with grass have a different method of fishing. Muddy bottoms, stealthy approach, fighting fish that go into the grass. With all the good food and the great water coming out of the ground, you will find cherry red Rainbows, deep copper Browns and orange dotted Brookies.

We offer "Overnight Packaged Trips" throughout the year, lodging, food and guiding.
Come join us and we will explore some of these great streams.
Come fish Penns Creek from Weikert through Ingleby, Poe Paddy State Park all the way to Coburn. We will also fish Spring Creek from Benner Spring in State College, Fisherman's Paradise and all the way to Milesburg.  We can't forget about Big Fishing Creek in Lamar. We can cover the narrows all the way up stream past the Taylorsville hatchery. All fishing is catch and release. We will target Rainbow, Brown and Brook trout. All creeks are within driving distance of State College and Bellefonte. Come enjoy the best hatches in the state, Cahills, Grannoms, Hendricksons, Quill Gordons, March Browns, Grey Fox, Sulphurs, Stoneflies, Blue Wing Olives, Green Drakes, Slate Drakes and Caddis.