Walk and Wade Day Trip Guide Service
Southeastern/Northeastern and Central Pennsylvania 

Walk and Wade 
Penns Creek, Big Fishing Creek, Spring Creek, Pine Creek, Kettle Creek, Slate, Cedar, Little Juniata River, Big Spring, Letort, 

Pohopoco, Hickory Run, Little Lehigh, Saucon Creek, Monocacy Creek, Lehigh River, Bowman Creek, Lackawanna River, Lackawaxen River, Broadhead,

Tulpehocken Creek, Manatawny Creek 

just to name the more popular streams we guide on.  We offer trips to 

Class A creeks for wild trout around the state.  All have different characteristics to meet your request.  
Come learn from the most experienced guide service in Pennsylvania.
Half Day (4 to 5 hours) One Client  $275.00  Two Clients  $325.00
Full Day (8 to 10 hours) One Client $400.00  Two Clients $ 450.00
Tips For The Guides Not Included.
Casting Instructions one-on-one or for two students. Call for pricing.
Note: One guide per two clients to make sure we make the most out of your guided experience.
We offer trips catered to your requests, Traditional Nymphing, Euro-nymphing, Streamer, Wetfly, Dry Fly fishing, Bass and Pike fishing.
Snacks and water provided on half day trips.  Lunch, snacks, and water provided on most full day trips. 
Quality loaner equipment can be provided Rods (ORVIS, Redington, Douglass, Sage), flies, leaders and tippet.  Waders and boots (ORVIS or Redington) can be provided if we have the right size in our loaner/rental inventory. Cost for loaner equipment is $50.00.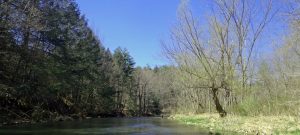 Come fish Penns Creek from Weikert through Ingleby, Poe Paddy State Park and all the way to Coburn. We will also fish Spring Creek from Benner Spring in State College, Fisherman's Paradise and all the way to Milesburg.  We can't forget about Big Fishing Creek in Lamar. We can cover the narrows all the way up stream past the Taylorsville hatchery. All fishing is catch and release. We will target Rainbow, Brown and Brook trout. All creeks are within driving distance of State College and Bellefonte. Come enjoy the best hatches in the state, Cahills, Grannoms, Hendricksons, Quill Gordons, March Browns, Grey Fox, Sulphurs, Stoneflies, Blue Wing Olives, Green Drakes, Slate Drakes and Caddis. Sky Blue Outfitters is a leading guide service in Pennsylvania since 1999.

We offer Walk and Wade Smallmouth fishing on small rivers and large creeks during the summer months. Don't forget we offer drift boat trips on the Susquehanna, Lehigh (trout) and the Juniata rivers.


Fill out the form and we will be in contact within 24 hours or call 610-987-0073 if you have any questions or want to book with Sky Blue Outfitters.
PLEASE CHECK YOUR SPAM FILE IF YOU DO NOT SEE A RESPONSE WITHIN 24 HOURS.