Presentations Available
Rick Nyles, Brian Shumaker, Dave Rothrock and Dave Allbaugh have done presentations at various shows, TU Chapters, and Fly Fishing clubs along the east coast.
Call (610-987-0073) for pricing. Depending on location it can range from $250 to $350

Rick Nyles
"For a guy like me who is/was convinced he knows everything about dry fly fishing Rick Nyles was a rude awakening! We had 18 guests to hear what I believe was one of the most enjoyable fish talks I've been to.
The way Rick presents invites a lively audience response. After 20+ years of guiding he peppers his presentation with colorful recollections of his client experiences. Best of all, (at least for me) was his penchant for fishing dry flies sub-surface. He shared several rigs that were completely unfamiliar – and intriguing.
This is the time of the year, as comfortable fishing days fade, that these presentations warm the cockles of fly fishers' hearts". 

Dame Juliana League
Montana-Idaho "Around Big Sky Country"

New 2022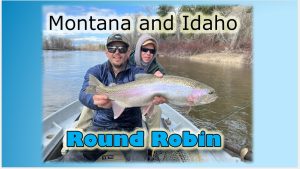 Fishing in the Missoula, Bozeman and Island Park (Henry's Fork) discussing fishing on Rock Creek, Clark Fork, Blackfoot, Bitterroot, Yellowstone, Madison, Henry's Fork and Missouri rivers. Length is 30 to 40 minutes.
Labrador, "The Big Land"

New 2022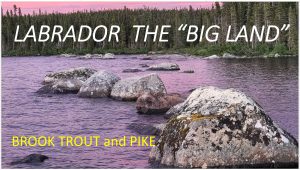 Learn about the Brook and Pike fishing in remote Labrador. Travel, fishing techniques and the how big the fish get. Length is 30 to 40 minutes.
Tactical Dry Fly Fishing 

Updated 2021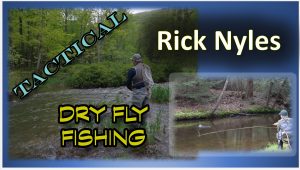 Presentation on Rick's approach to Dry Fly Fishing.  Equipment, Rigging, Flies, Casting and Approach.  Detailed info and a simple approach. Length is 45 to 60 minutes.
Back to Basics

Updated 2020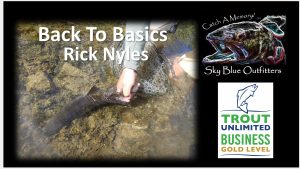 This presentation is on getting back to basic fly fishing. Over the years we have forgot how we got to were we are today with all the new stuff out there.  A funny look at the industry. Length is 30 to 45 minutes.
Penns Creek, "The Hatch Factory" 

Updated 2020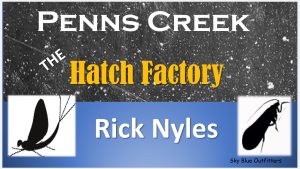 A complete look at Penns Creek from Coburn to Weikert. The fish, the amazing hatches and how to catch more trout. Length is 45 to 60 minutes.

Dave Rothrock 
Bugs and Imitations

 
Covers most of the important mayflies as well as a number of caddisflies and stoneflies here in the east.  Includes a variety of pattern types to suggest these hatches as well as some insight into tactics to fish them.
Diversified Nymphing

New
Covers most everything from tight line fishing with sighter leaders to fishing with a variety of indicators including rigging and which system may provide an advantage over another depending on conditions.  This program takes a more technical approach to analyzing some of the factors within each system.
This Wonderful World of Trout 
Takes a more lighthearted look at the the trout and the environment in which we find them.  This program brings together aspects of the trout fishing experience we may not ordinarily consider when heading out for time on the water.
PA's Finer Streams – A Guide's Choice

New
This program looks at why I guide on particular streams in the north central and central regions as well as some of the proven techniques to experience success.  

Dave Allbaugh
Basic Equipment and Tactics to Wetfly Fishing

 
Dave offers several presentations on fishing wet flies.  Leader setup, technique, approach and what flies to use.  Two seminars are available, indoor fly tying, and outdoor showing how to fish wet flies. 

Brian Shumaker
Smallmouth, Top to Bottom
Brian will share his experience fly fishing for Smallmouth on the Juniata and Susquehanna Rivers. Brian is the most experienced fly fishing guide on the rivers and has

developed

fly patterns that will hunt down those picky bass. 

Fly Tying 
Dave Allbaugh, Dave Rothrock, Brian Shumaker and Rick Nyles are all accomplished fly tiers.
Rick recently placed 3rd in the Orvis Fly Tying Contest. CDC Patterns and flies using his UP DN TROUT Wing Material. 
Dave Allbaugh is a WETFLY Guru and Guide, enough said.
Dave Rothrock, nymphs and Dries the traditional way.
Brian Shumaker, Smallmouth Streamers and his

famous

 Shimmering Minnow. 
Taylor Helbig, Mayflies and Spinners and his own streamer patterns for big trout.

What People are saying…
 " We had some big names in the fly fishing industry do presentations for our club.
Rick out did them all with his presentation skills, explanations, quality of material and his simple approach to fly fishing and fly tying. Oh, he has some good jokes".
Jim

Rick,
On behalf of the Dame Juliana League board and its members, thank you for the insightful presentation yesterday evening – I'm fairly confident that we all took away a few tips and tricks to improve our dry fly fishing (mine was shortening my leader substantially on the majority of trout water I fish).

It was as advertised, a great way to spend a cold February evening. In February, over 70 Chapter members were treated to an informative and entertaining presentation by Rick Nyles, owner and guide of Sky Blue Outfitters. Rick shared his experiences on some of his favorite streams including Penns Creek, Spring Creek, Big Fishing Creek and his home waters, the Manatawny and Tulpehocken Creeks. His blend of videos, photos and verbal explanations was highly effective as he demonstrated both fly tying and fishing techniques.  In addition his sense of humor made his presentation of the facts fun to listen. I think it was safe to say that everyone left the meeting eager to get back out
on their favorite stream.  
Jim Wellendorf, Donegal TU

 

Dave,
Thank you for making the long commute and sharing your presentation with us. We had a great turnout and everyone really enjoyed your presentation. I could tell by the comments, enthusiasm, participation and number of questions asked during and at the end. If I am in the area of the Elite 8 streams mentioned I will definitely look you up and book a guide trip with you. Like most guys I am primarily a nymph fisherman… but I would like to further develop my skills and learn some wet fly techniques hands on.
Regards, 

Dan Weaver   

 Bucks Co. Trout Unlimited



Call for pricing.