Casting Instruction One-On-One or Group Classes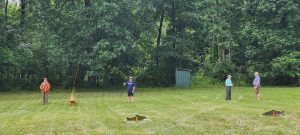 We offer one-on-one on stream casting instructions Rick Nyles, Brian Shumaker, Dave Rothrock, Derek Eberly, Shane Becker, Bill Nolan or Taylor Helbig.  Pricing is based on location and time required.
 

Fly Tying
We offer fly tying classes and one-on-one programs teaching nymphs, drys (CDC and UP DN TROUT), stoneflies and streamers.  Price is based on location and hours.  
Presentation and group lessons for TU Chapters and Fly Fishing Clubs.  

 Gift Certificates Available
PLEASE CONFIRM AVAILABILITY BEFORE PURCHASE