Note: All flies above were tied with the UP DN TROUT Wing Material.  The Green Drake and Stonefly had CDC added.

This is a "general" Pennsylvania Hatch Chart. Not all insects occur on all streams, and timing can vary by stream and by year. This chart is a good starting point to prepare for hatches across Eastern and Central Pennsylvania.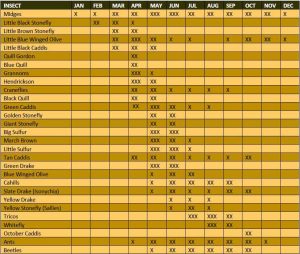 Penns Creek, Big Fishing Creek, Manatawny Creek, Tulpehocken Creek, Spring Creek, Bald Eagle, Pine Creek, Slate Run, Cedar Run, Lehigh River, Pohopoco, Mud Run, Broadhead Creek, Bushkill Creek, Little Juniata, Kettle Creek, Young

Women's

 Creek, Lackawanna River, Lackawaxen River, Class A Trout Streams

Water Flows, Gage Heights and Temperatures Available For Rivers and Streams. Feel Free To Reach Out If You Need To Know If The Water Is Fish-able.  Email




MONTANA, IDAHO, and SASKATCHEWAN
In 2024!


"BUCKET LIST" Trip
All Flies on this page were tied with the UP DN TROUT Wing Material (and some CDC, Stonefly and Green Drake).