Sky Blue Outfitters has been hosting group trips for over 14 years to such places as Montana, Outer Banks, Idaho, Lake Placid, and Labrodor.  We do several trips a year to Montana and or Idaho, and one "bucket list" trip. 2024 we are going to Saskatchewan, Belize, Montana and Idaho. A Redfish trip is in the planning stages.
Come join us and enjoy some relaxing fishing somewhere on a river or lake. We take all the worry out of where to sleep, meals, and guides to hire. We only go first class or not at all. So, scroll down the page to find out more about our hosted trips in 2024.
Call Rick Nyles for more details 610-987-0073

Destination Trips in 2024
PLEASE PLAN AHEAD, WE SELL OUT FAST!
We can "pencil" you in and firm everything up later this year.

Yellowstone | Clark Fork | Bitterroot | Blackfoot Rivers
Cost is around $4,100.00 pp (estimated due to being over a year away).
Sunday September 15th to Sunday September 22nd, 2024 


These fish were caught on our last trip to the Yellowstone River in September 2021.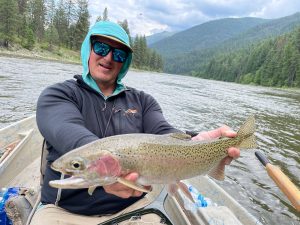 Some Clark Fork fish caught on our last trip in June and September of 2023.
Plan is coming together. We will be lodging in Livingston and Missoula, and will drift boat fish the Yellowstone 2 days and drift in the Missoula Area (Clark Fork, Bitterroot, Blackfoot) for 3 days.

S

ome of the best dry fly hopper trout fishing in North America.

First rate guides, lodging and fishing. Your host will be Rick Nyles.
Agenda
Sunday September 15th, Fly into Bozeman, get rental cars, drive to lodging in Livingstone, check in, have a relaxing seafood dinner by Rick.

Monday and Tuesday; Drift boat fishing on the Yellowstone River (outside the park).

Wednesday; Drive to Missoula, wade fish or sightsee, check into lodging.

Thursday, Friday and Saturday; drift boat fish the Clark Fork, Bitterroot or Blackfoot Rivers. 

Sunday September 22nd, fly home from Missoula.

 
Not included; airfare, dinners in restaurants, MT license, and tips for the Montana guides.

Saskatchewan, Canada
Grayling, Pike, and Lake Trout
July 10th to 18th, 2024 
Cost $4,695.00 plus taxes 
Limited To 8 Anglers.
Only two spots left.
We will have the lodge exclusively for our group!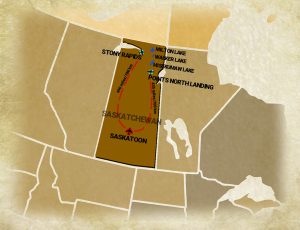 Let's mix it up and experience some very remote wilderness fishing in northern Saskatchewan. A "bucket list" trip with gourmet meals, shore lunches and you will have a private bedroom. I booked the lodge well in advance to get the best dates, and to have the lodge just for our group. Your host will be Rick Nyles.
Lodge Report:
"Definitely the highlights of our 2022 season were the 3 northerns we boated over 50" including one taken on the fly. We also saw many fish over 45" and some of our guests got to the point where they didn't even want to bother measuring the 40s. Looking forward to the 2023 season". 

Shore Lunch, Nice Accomidations, Gormet Dinners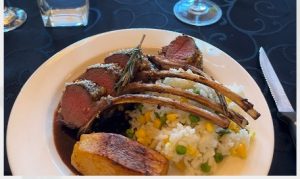 This trip is already filling up. Limited space available. A $500 deposit payable to Sky Blue Outfitters

LLC

is required to hold your spot. Balance is due before April 1st, 2024 paid directly to the lodge via check or credit card. Email for lodge cancellation policy. Trip insurance is recommended. 
Recomended Equipment; 9 ft 8,9 or 10 weight Rod. Waders, Bring your tied flies, raincoat, dress in layers, suncreen. The lodge has backup equipment as needed.
Package Includes:
Round trip air transportation from Saskatoon to the Lodge. 

Experienced fishing guides for every 2 anglers on 17′ Lund boats with 40HP Yamaha motors.

New GPS, sonar and satellite communication devices, WIFI.

Exceptional meals by culinary chef including complimentary wine with dinner.

Private rooms with climate control.

Daily maid and laundry service as needed.

Satellite TV, internet, and telephone service.

Backup gear, i.e Fly Rods, Waders and Boots.
Not Included
Flights to Saskatoon

,

Saskatchewan ($750 to $2,000 based on seat choice from Philadelphia).

3 nights hotel lodging and meals before and after the trip into Saskatoon ($250)

Tips for guides and staff ($500.00 estimated).

Bar tab. Pre-order is available and will be at the lodge when you arrive. 

Fishing License ($115).
This is a "top shelf" lodge with excellent equipment, lodging and food the "Sky Blue" way. Air transportaion from Saskatoon to lodge is included. 
Dry Fly Fishing For Grayling (river fishing from a boat or wading), Streamer and Top Water Fishing for Pike up to 35 pounds along the shoreline, and down deep Streamer fishing for Lake Trout up to 50 pounds. All on a fly Rod. Conventional rod (spinning-baitcaster) fishing is allowed, and rods will be available to get down to the Lake Trout.
8 Weight Rods will work just fine for Pike and Lake Trout, 5 or 6 weight rods for Grayling. If you do not have the right rod, Sky Blue or the lodge can provide one. Wet wading or bring your waders for Grayling fishing. The lodge does have loaner waders, but limited. 
Saskatoon

,

Saskatchewan
Agenda
July 10th; Fly To Saskatoon, check into hotel, dinner.
July 11th; Relax, tour the town, and enjoy the local shops, bars, and restaurants.

July 12th; Fly to lodge, check in, go fishing, dinner, fish and bedtime.

July 13th to 16th; fish, eat and sleep.

July 17th; Breakfast, fish half a day, pack and fly to Saskatoon, check into hotel, dinner.

July 18th, fly home.

Henry's Fork of the Snake River, Two Trips To Choose From.
September 8th to 14th, 2024 Group # 1 with host, Rick Nyles
September 15th to 21st, 2024 Group # 2 with host, Taylor Helbig

This 29 inch Rainbow was caught on our last trip to the Henry's Fork in September 2022.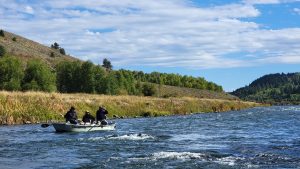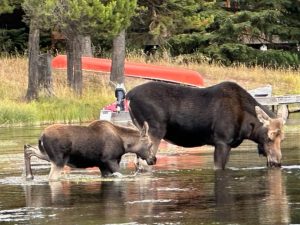 Spend 5 days drifting the Henry's Fork River in Idaho. We are staying at a full service lodge. Top shelf guides, food and lodging. Price to be determined. Double occupancy and limited single rooms available at an addtional charge. The "first come, first served" rule applies to available rooms.
Agenda
Sunday; Fly into Idaho Falls, get rental cars, drive to lodge, check in, have a relaxing dinner.

Monday through Friday; Drift Boat fishing on Henry's Fork. Option of fishing Henry's Lake or one of the many lakes in the area. Breakfast and lunch provided. Dinner you can pay or charge to room. We will go out to dinner one night in West Yellowstone. Flies will be supplied.

Note: Friday after drifting the river, we will drive to Idaho Falls and stay in a hotel and have dinner at a local Micro-brewery or restaurant. 
Saturday; Fly Home

Belize, June 2024
Details To Be Posted
Your host, Shane Becker

Louisiana Redfish/Drum 
DATES and DETAILS are being worked on.
Your host, Brian Shumaker

If you want to experience salt water fishing, this is it. 

Please plan ahead, we sell out fast. We can "pencil" you in and firm everything up later this year.
No deposit is required until December 2023/January 2024. 

2025 Trips In The Works
Montana June and September, Missouri, Clark fork, Bitterroot, Blackfoot, Rock Creek

Labrador For Big Brook Trout and Pike

Florida Keys For Bonefish, Permit, and Tarpon

More To come

Contact

Rick for

cancellation policy

for the above trips.
Payments or Deposits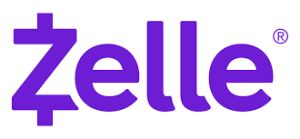 Venmo, Zelle Or Check Preferred For Destination Trips